All Posts
| Dog Travel: Tips For Traveling With Your Dog
You're ready to get out of town for a little R & R, but you're uncertain whether traveling with your dog in tow will provide either of those Rs. Never fear! For the well-prepared dog owner, traveling with your canine companion can be a fun and rewarding experience.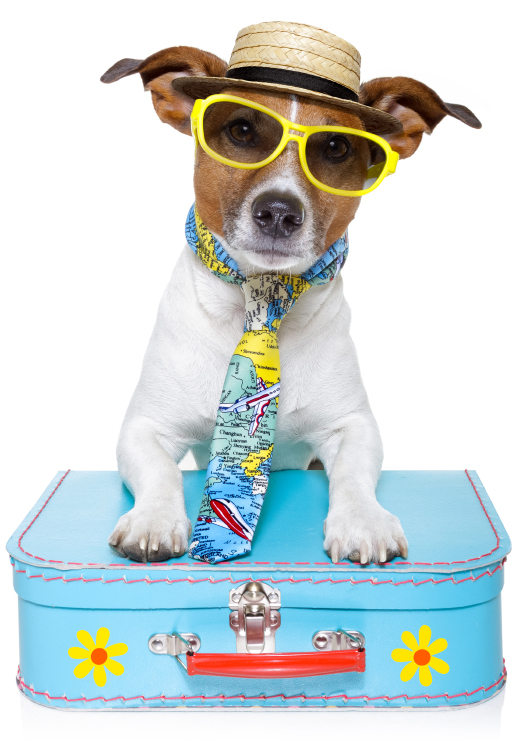 Transportation and accommodations
Before hitting the road, plan for whether you'll be, well, hitting the road. If you'll be driving, purchase a safety harness for your dog or a sturdy carrier that can be strapped into the seatbelt. (Once you start your drive, it's best for your dog to ride in the backseat of the car.) Check your route ahead of time to locate parks or rest stops where your dog can take a bio and exercise break.
If you'll be flying the friendly skies, before you book a ticket, check the airline's website for regulations and fees when traveling with a dog. Keep in mind that most airlines require your dog to travel with a health certificate from your veterinarian.
Next make sure your dog will be well accommodated at your final destination. If you'll be staying at a friend's house, ask ahead of time if your dog may join you. If so, enquire about exactly where in the house your dog will be resting his head so you can be prepared. If pets are a no-no, consider finding a kennel near your friend's home so you can still spend time with Fido while being respectful of your host's wishes.
If you'll be staying in a hotel, research hotels that allow pets before reserving a room. More and more hotels are putting out welcome mats for dogs and their owners.
Health preparations
Once you know where you're heading and how you'll get there, it's time to make sure your dog is fit for travel. Check with your veterinarian about whether you need to make any special considerations for your dog. Depending on where you're headed, your dog may need additional vaccinations, such as for Lyme disease.
Flea, tick or heartworm prevention also are important considerations for travel, especially if your dog will be spending time outdoors. Check out Bayer HealthCare Animal Health's parasite prevention options and ask your veterinarian which one may be right for your dog.
Remember that if you'll be flying with your dog, you'll likely need a health certificate from your veterinarian.
Also jot down the name and phone number of a veterinarian who's located in the area of your destination. Though you may never use this information, you'll want to have it in case of an emergency.
Pooch packing list
Ensure your doggy's bag is full of the right stuff:


Medications


Food and water


Dog dishes


Toys


Pet bed, if needed


Collar and leash


ID tag with cell phone number


First aid kit


Plastic bags for waste


Name and phone number of area veterinarian


Health certificate


Traveling tidbits
Once you're on your way, remember these key points for a carefree trip:


Clean up after your dog, wherever you are.


Be respectful of others' property, be it at a hotel or at a friend's home, especially if you want to be invited back!


Try to keep to your dog's regular schedule as much possible in terms of mealtime, sleeping patterns, etc. This will make the trip smoother for you and your pet.


Have fun! This should be an enjoyable time for both of you.